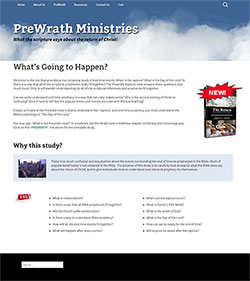 Prewrath Minstries is celebrating a lot of new things! First, we have a brand new responsive, secure, automated website. We have arrived with technology. There are so many things we will be able to do now that we could never do before.
In addition, the "In View of the End" PowerPoint® study now comes with a wide-screen format, as well as the standard screen format. And, if you are a former purchaser of the PowerPoint® presentation, you can download the new files at no additional cost. You can login under the Cart  -> My Account by using your old login and password. If you need help, feel free to email me.
But that's not all… I know you probably already know about my book The Return. But now, we have done some updating of the study workbook and answer workbook. Also, they have been professionally bound in new covers, and we have lowered the price. If it has been a while since you have visited https:/prewrathministries.org, come and check it all out.
Now, I need to also point out that just like the old website, the new one has the entire "In View of the End" study on the website under the PreWrath menu item. Also under PreWrath is the FAQ page with so many questions in several categories. It has always been my goal for anyone to be able to go through the study at no cost.
Last, this article is the first in a new blog on the website. I will be attempting to make regular updates on the website blog. Also, I have newsletters on my old website that date back to 2006. And, rather than attempting to transition all my old newsletters on to the new website, I have decided to revisit the newsletter topics, update them with any current information and re-publish them as a part of this blog. I will also send out this blog for any who wish to subscribe to my new newsletter on this new website. To subscribe, just fill out the subscription request with your email on several pages of the website like the Contact Us page.
If you like what you see, I still have my Guestbook page – feel free to leave me a note. If you want to email me with a comment or a question, you can also use the contact form on the Contact Us page.